Why Japan?
Japan is one of the most fascinating countries in the world. With a unique way of life that you simply will not find anywhere else on the planet, this is one of those places that sticks in your mind long after you leave.
From eating at robot restaurants to getting a mermaid manicure to wandering through the cherry blossoms, there is a surprise around every corner in Japan. The Land of the Rising Sun is a dynamic mix of modern and tradition that will absolutely fascinate you.
Best time to visit Japan
Any time! Japan is a 'year round' destination and each season brings a reason to visit Japan! Whether it's the famous sakura or cherry blossom season and pretty weather in the spring, the hot and liveliness of summer, the fall color changes of autumn, or the icy cold snowy festival of winter, you can't go wrong traveling to Japan at any time of the year.
From late April to early May, a mesmerising display of white, purple and pink wisterias bloom beautifully at the scenic spot that is the Kawachi Wisteria Garden in Kitakyushu, making it a popular destination for tourists from both Japan and abroad. The whole garden truly turns into a flower wonderland and you feel like you are in a fantasy world.
Top places to visit in Japan
1. Tokyo
Tokyo is one of the best places in the world: shrines, palaces, temples, cherry, hip clubs, bars, people, and fashion stores – Tokyo is a fast paced, futuristic city. Don't rush it! It's everything you expect and more. Be sure to hit some of the quirky cafes, wander Harajuku, see the iconic Shibuya crossing, and admire the Imperial Palace while you're here.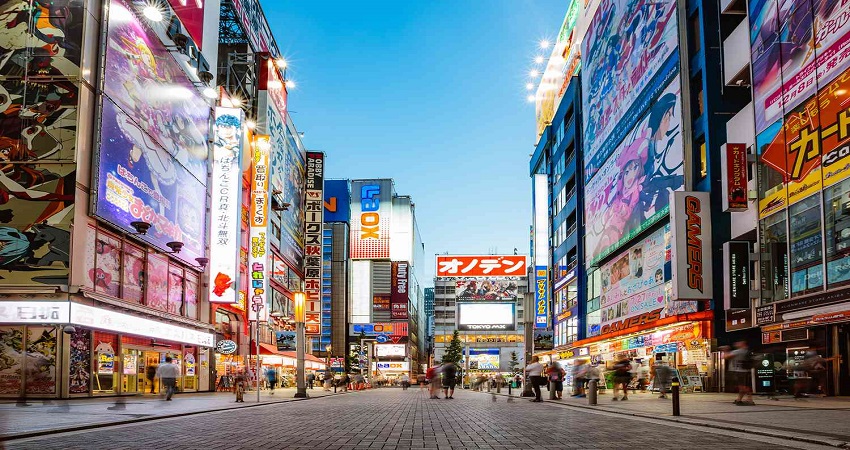 2. Osaka
Love fashion, food, and fun? Osaka is the dream destination for you! You'll find that Tokyoites are polite but business-like, whereas Osakans are by and large a jolly and playful bunch. Founded 1400 years ago, you can find traditional sites, but most people go to Osaka to enjoy its modern atmosphere.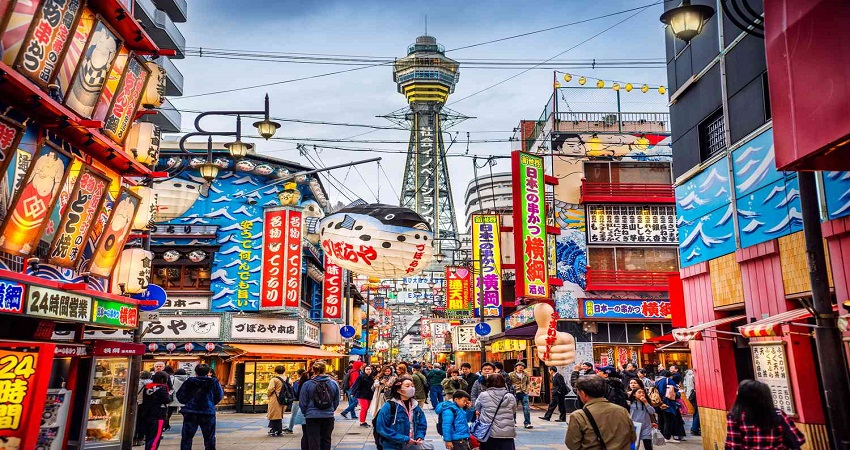 3. Kyoto
The city of shrines, gardens & palaces! Of all the major Japan destinations, the sacred city of Kyoto is one of the best places to visit in Japan in spring irrespective of whether you are holidaying with your family or your partner. The iconic temples, shrines, palaces, gardens, and the bamboo forests are a treat to the eyes, and you cannot afford to miss it on your first trip.
4. Mt. Fuji
There is no doubt that Mt. Fuji is a must-visit place since it's a symbolic mountain in Japan. Known as the highest mountain in Japan, it fascinates numerous visitors with its extraordinary beauty and presence. You can enjoy the symbolic peak from a distance, or tackle the exciting hiking trails which allow you to explore the surrounding nature. Mesmerized by the beauty of Mt. Fuji with Uranus Travel. How? Find out here.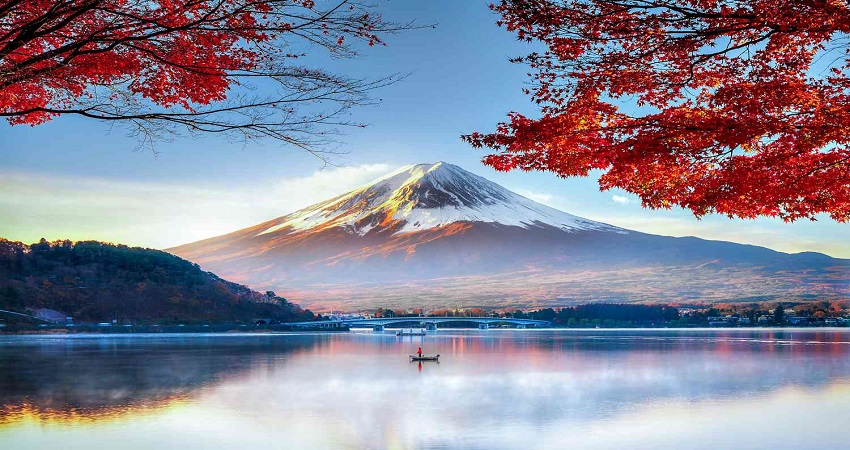 5. Hiroshima
In this city, you not only get to explore the history of World War 2 but also get to enjoy many beautiful parts of nature. So, you won't only get to learn about the sad history of the city, you will also be able to enjoy adventurous sightseeing and activities.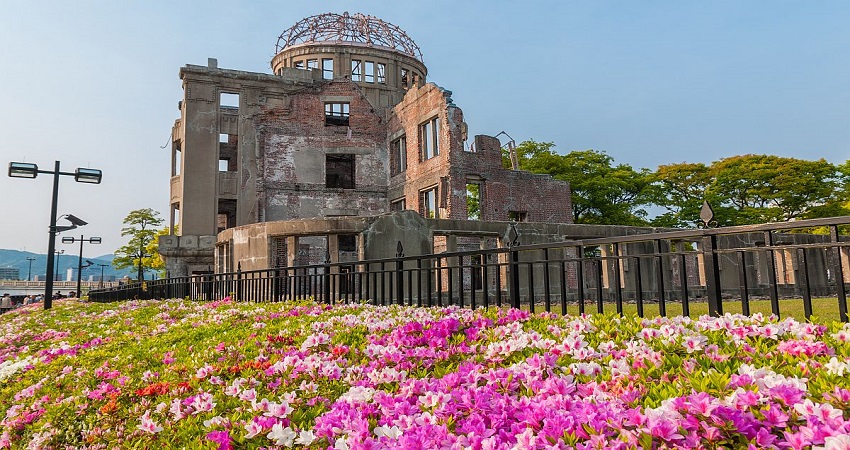 6. Hakone
The small town of Hakone is known for the natural beauty of its mountainous terrain, waterways, and hot springs.
By far the most prominent and well-known attraction is Lake Ashi that makes Hakone one of the most fun places to visit in Japan.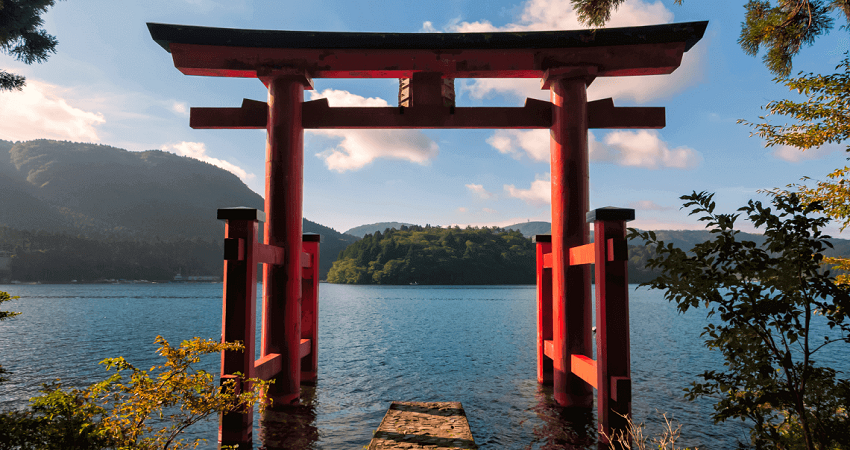 7. Nara
Nara Park makes this list of beautiful places to visit in Japan because of its irresistible combination of wildlife, gardens, and architecture.
The park is well known for the hundreds of deer that freely roam the grounds. For the most part, the DEER IN NARA PARK are really friendly and you can even buy special crackers to feed them.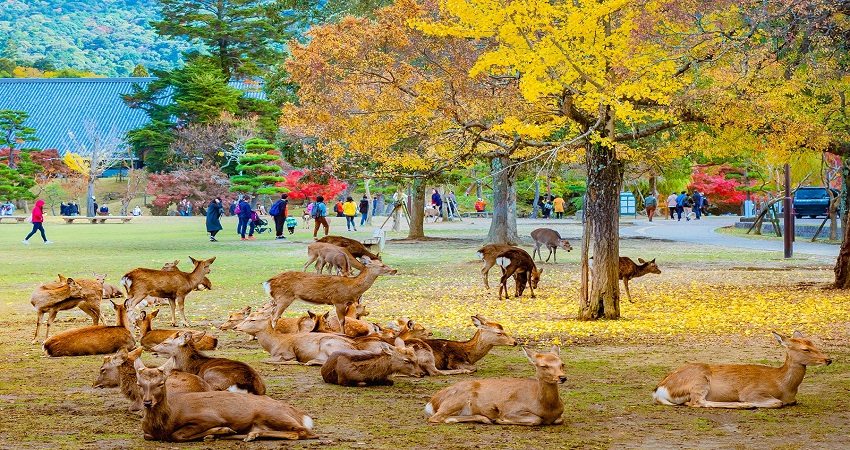 8. Fukuoka
Fukuoka is a cosmopolitan city at the northern end of the rugged Kyushu island. Also known as Hakata, the city of Fukuoka is one of Japan's culinary capitals, and is also blessed by relatively mild weather, a buzzing energy yet laid-back feel, and access to Kyushu's beautiful landscapes.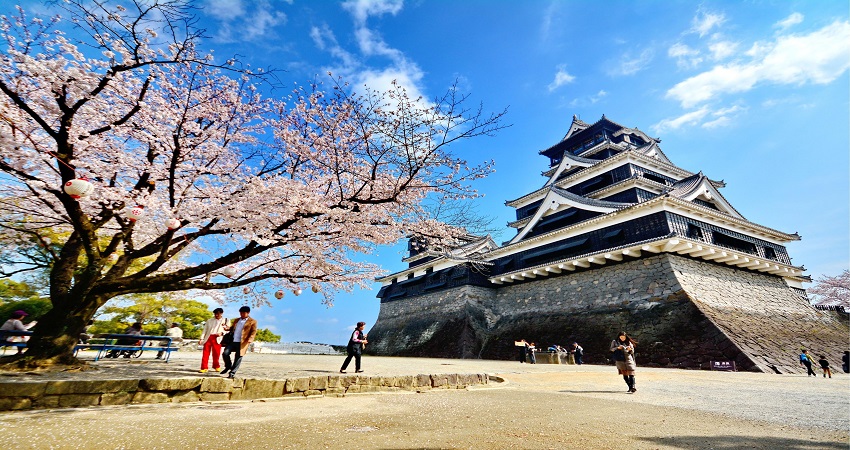 9. Yuzawa
Yuzawa in Niigata Prefecture is one of the largest and the most easily accessed ski areas from Tokyo. You can be on the slopes from Tokyo Station in under two hours. Yuzawa is known for deep powder and a long season, with some resorts open from mid November to late May. If you want to make the most of your next level experience, click here.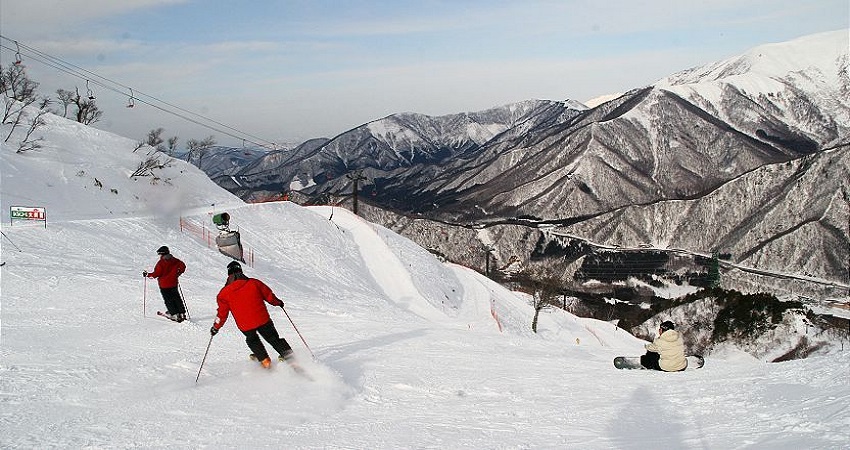 10. Takayama
Takayama is an utterly gorgeous small town on the edge of the Japan Alps and one of the best less-visited places to go in Japan. With its historic centre full of traditional wooden houses, colourful shrines, neatly shaped trees, and bright red bridges over the river.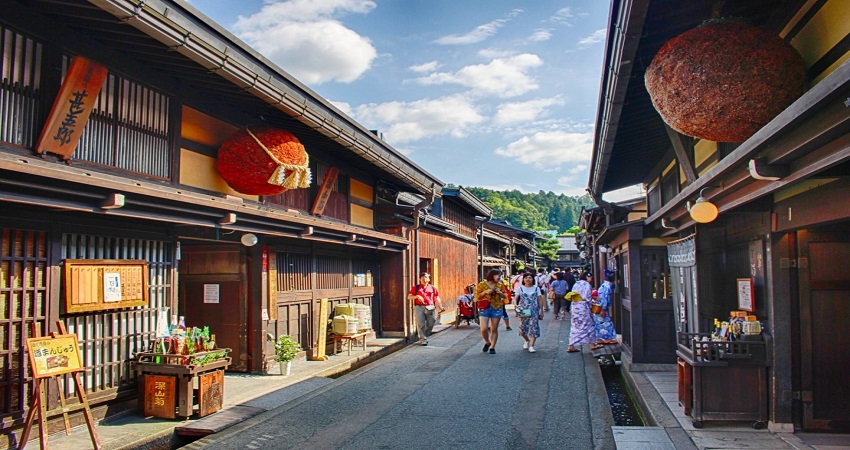 Foodie experiences in Japan
Japan's traditional cuisine can appear as sublime works of art, prepared with meticulous attention to detail and balanced with rich and delicate flavours made with quality and fresh ingredients. So, it comes as no surprise that Japan is a gastronome haven full of tantalising food adventures.
There's no denying the aspect of Japanese culture many tourists most look forward to is the food! Whether its delicious street eats, mouthwatering wagyu or succulent sushi, Japan has something to literally suit all tastes!
Sushi has come to define Japanese food for many international eaters, though of course it represents only one category of Japanese cuisine. The signature dish of Tokyo – nigiri-zushi – is the style of sushi most popular around the world today: those slivers of seafood hand-pressed onto vinegar-seasoned bites of rice.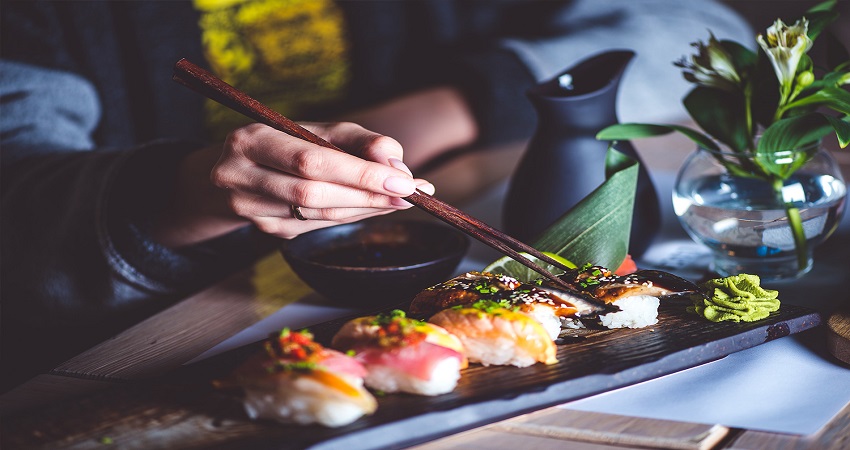 Splash out on Kaiseki Couisine. This quintessentially Japanese style of ceremonial dining is both a culinary and cultural experience. A multi-course feast consisting of many delicate dishes created with skill and flair by top chefs around Japan, kaiseki cuisine (kaiseki ryori), Japan's own Haute cuisine is well worth the high price point. Kaiseki cuisine varies depending on the chef's approach and philosophy, but expect a series of immaculately presented dishes including sashimi, pickled vegetables, miso soup and hot pots served in an exclusive environment like a private dining room at a ryokan, within a Japanese garden or in a five-star hotel like Palace Hotel Tokyo's Wadakura.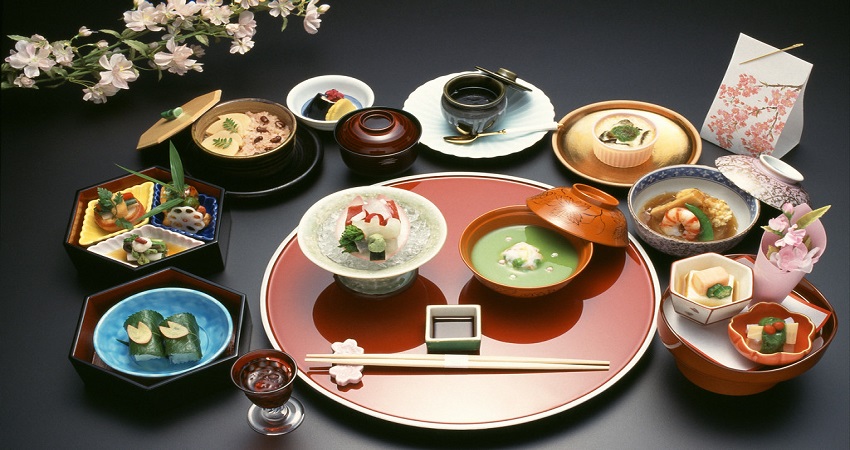 Ramen is known as a typical Japanese meal, ramen could be appeared in many Japanese anime and movies, and many international travelers add eating ramen to their to-do list when they come to Japan. Nowadays an increase in the number of Japanese restaurants allows you to have some ramen even outside of Japan.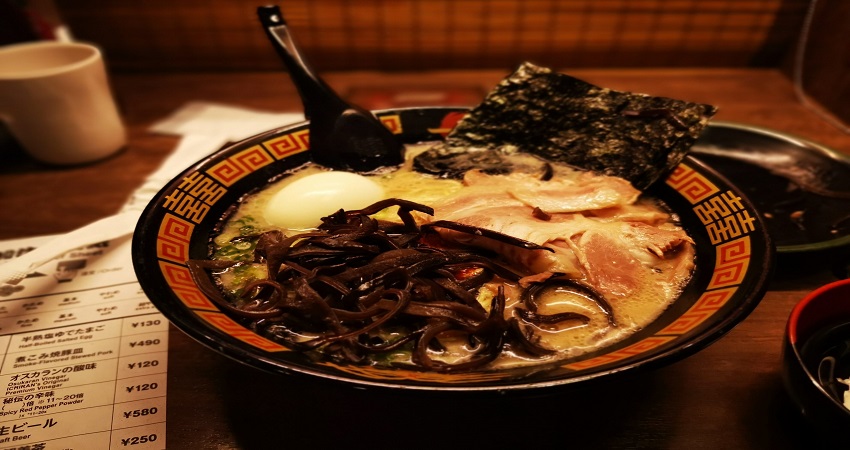 How to get around Japan on a Budget?
Japan is famous for its reliable and fast train network around the country. The country boasts a great, efficient transportation system to take you almost everywhere around the country comfortably and easily. You can use trains, buses and taxis to move between the tourist areas and for a long-distance trip, you can use shinkansen and planes.
Tourists or locals, everyone uses Japan's bullet trains (locally called shinkansen) to travel from region to region for a reason. They're always on time, impressively efficient (it runs up to 320 km/hour!), and easy to navigate.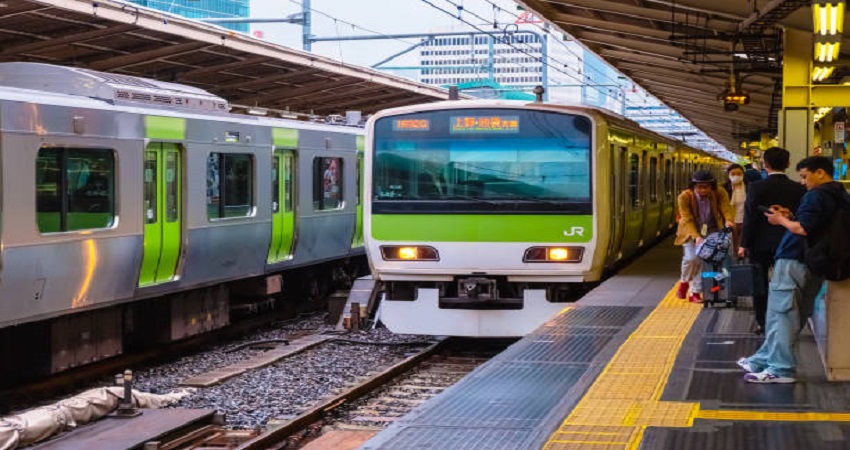 Bus is the cheapest way to travel from places to places. It will take you hours but the prices are very accessible, the buses are comfortable and every 2 hours (more or less) the buses make a 15 minutes stop where you can go to the restrooms, convenience stores or just stretch your legs.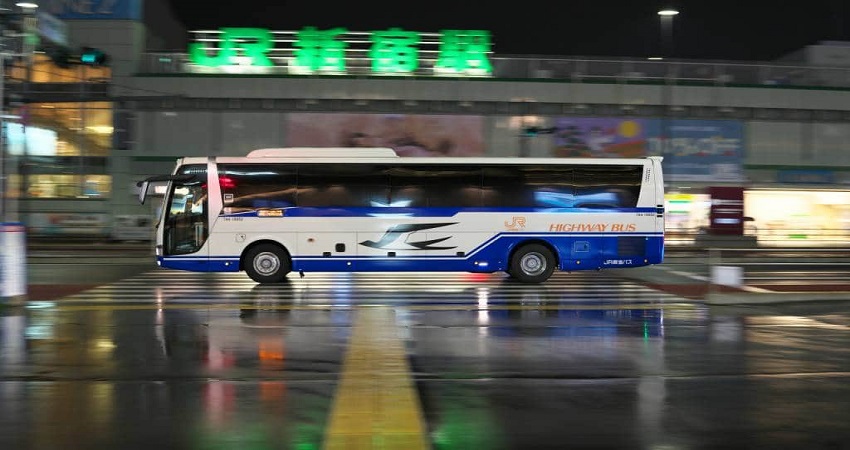 If you find yourself looking for a taxi in one of Japan's major cities, chances are you won't have to wait long. The city streets are swarming with taxi cabs ready to transport you to your destination. In local areas, the number of cabs decrease, but can usually be found in front of the train station. Taxis may be your only way to get around in rural areas or after public transportation shuts down.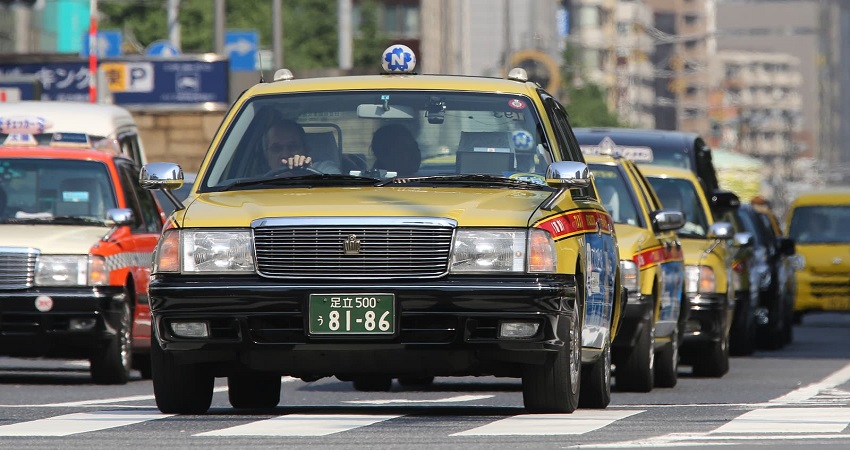 In general, prices are comparable to bullet train tickets. I only recommend plane tickets if you travel between the islands and have to cover large distances. On any other journey, the high-speed train is actually a favorite.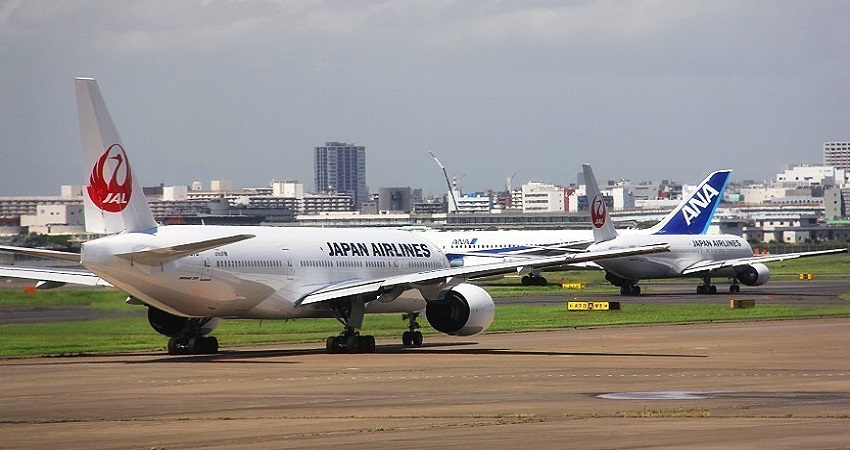 Unique Experiences in Japan
1. Wander around on Onsen Town in a Kimono
The best way to experience one is to stay in a ryokan. Some have their own onsens and usually include a pass to visit the other onsens in town.
After putting on the provided yukata (cotton kimono) and geta (wooden sandals), you head out to hop from one onsen to another and relax in the steaming waters.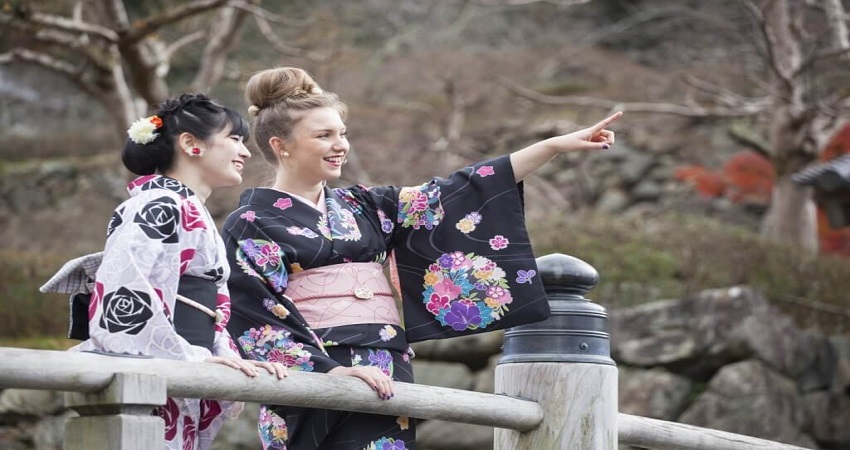 2. Hike the Kumano Kodo Trail
Yes, much of Japan is crowded. But there is also a huge portion of the country where you can find peace, tranquility, and yes, solitude. If you love nature, hiking, and out-of-the-ordinary experiences, this is JUST the thing to put on your radar.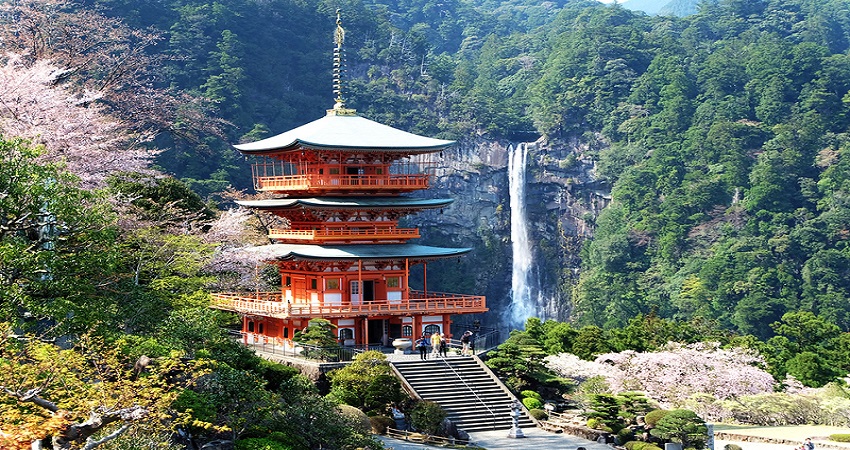 3. Go watching Sumo Wrestling
Sumo wrestling has a long history that dates back to ancient times with many traditions, rituals, and ceremonies including singing, salt-tossing, and foot-stomping (the actual wrestling part of a sumo match is very brief). One of the best ways to watch sumo is to attend a professional sumo tournament – they take place six times a year (each lasting fifteen days) in four Japanese cities, including Osaka and Tokyo.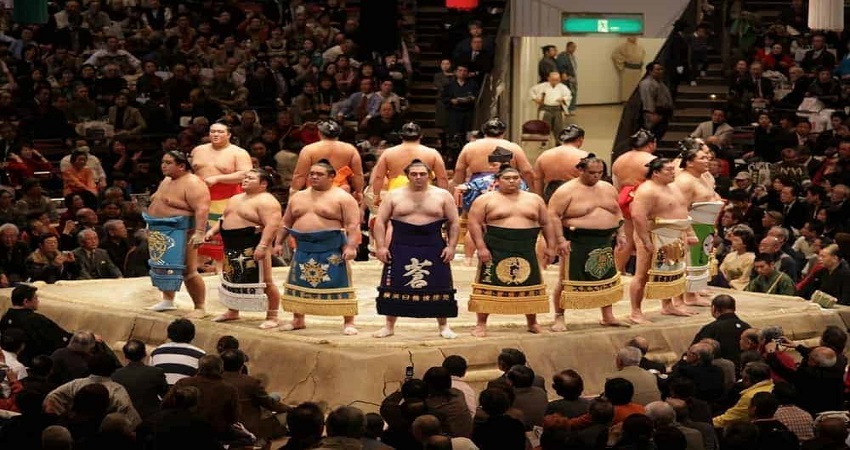 4. Experience a tea ceremony
Tea has a strong presence in Japanese culture; it is not simply a drink to accompany a meal, but an artform in itself. Matcha, a green tea made from a fine powder, is the centerpiece of traditional tea ceremonies. If you think these ceremonies are just about drinking a fancy cup of tea, prepare to be blown away. Details such as how the cup is rotated or the way you sit, are crucial to the ceremony, and being a tea master is a job only for highly skilled professionals.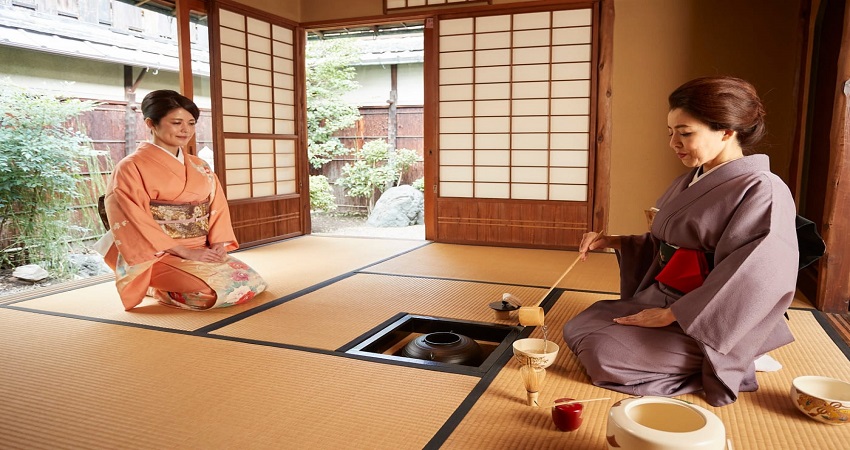 5. Attend a Festival
Because its culture dates back so long, Japan has many holidays, festivals, and rituals, including both local and national events. You may run into a crowd at a shrine or see groups of people dancing and not know what's going on. However, don't be nervous – Japanese people are not overly officious about events or ceremonies, and you are welcome to watch without offending anyone so long as you show respect for the culture.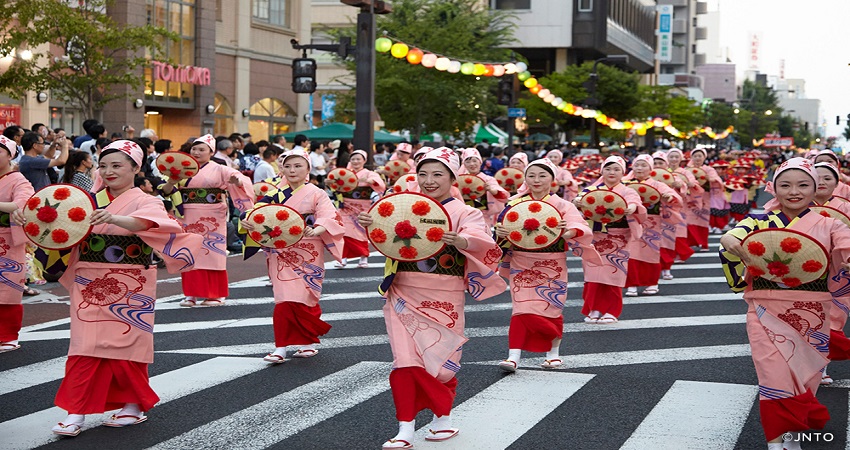 6. Izakaya hopping and sake bar crawling
No trip to Japan is complete without trying beloved Japanese sake and experiencing local nightlife in an izakaya (Japanese pub). Izakaya are typically crowded, but that's all part of the fun. The dishes served each afternoon will vary, but you can expect a selection of food ranging from niche regional specialties to all-time Japanese classics.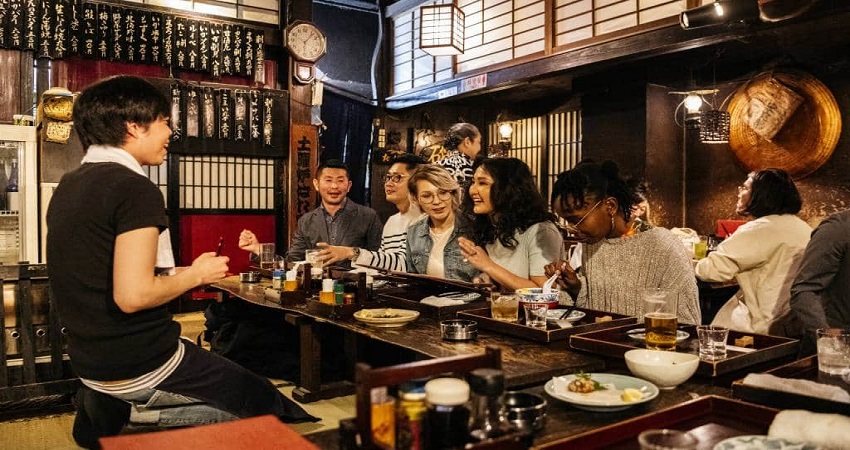 7. Cherry Blossom Festival
Traditionally called the hanami festival, the Cherry Blossom Festival is dedicated to the two weeks of the spring season when Sakura and Ume flowers bloom all over the regions of Japan. People flock over the gardens in Japan to enjoy an evening of food, drinks, and music under the blossomed cherry trees and celebrate the view of the delicate pink flowers. Being in the Honshu region of Japan during the months of March and April is one of the best things to do in Japan.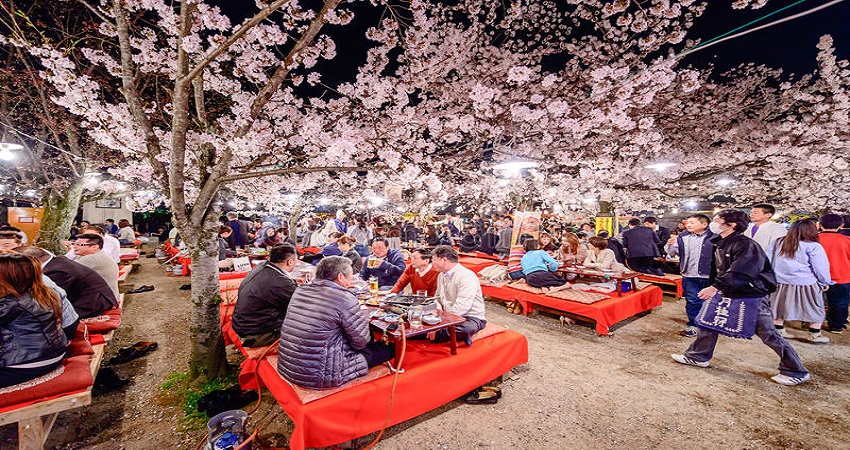 8. Fill your life with fantasy at Kyoto International Manga Museum
A special one for all of our manga aficionados, come get lost at the Kyoto International Manga Museum. But it's not only limited to those obsessed with anime and if you're keen on a fun, cultural endeavor, this museum is a fabulous pick.
For travelers not in the know, manga refers to the style used in traditional Japanese comic books, graphic novels and illustrations seen in anime series and films.
9. Kyoto Samurai Experiences
Immerse yourself in samurai history and culture during 2-hour samurai experience at a traditional Kyoto Samurai House. Under the guidance of an expert sword instructor, learn the philosophies of Bushido, the "Way of the Warrior" handle a real katana sword; and take part in a Zen meditation session.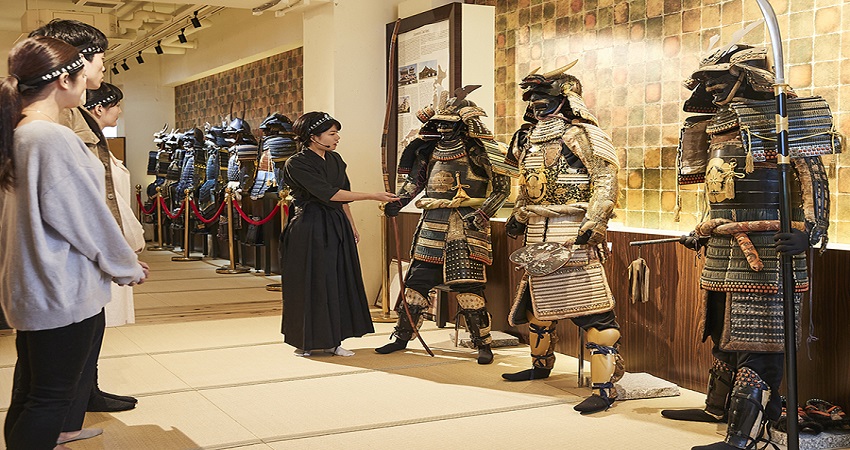 10. Escape from Tokyo's Bustle in a Bamboo Grove
It may just be a bamboo grove, but it's so enchanting and relaxing that you'll want to come back over and over again.The entire park is filled with a nice chill breeze, and there are plenty of comfortable spots to lounge.It even has several open areas that can be used for anything, like for children running around and picnics.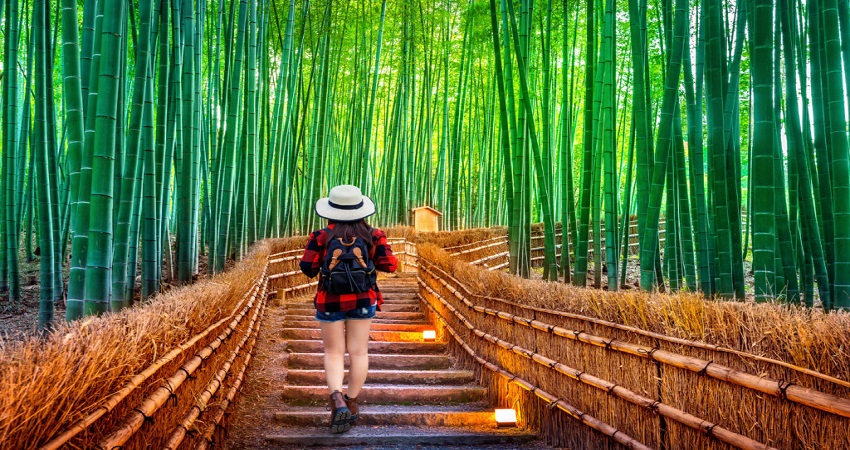 Explore Japan on a Budget
Japan is not the cheapest country to explore but some good planning can save you a lot of money. Hotels will take the largest chunk out of your travel budget. You can save a lot of money by booking these several months in advance.
Transportation is the second-largest cost item. Oftentimes you can save on this by using local discount passes or special tourist passes. The most well-known is the Japan Rail Pass but we also cover other passes on our site such as the Tokyo Metro Pass (Tokyo Subway Ticket) and the Hakone Free Pass.
Food costs can vary from person to person. There are people who prefer to eat cheap from local supermarkets and vending machine restaurants. An evening ready-made meal from a 7/11 or Lawson supermarket can be as little as ¥600 which is a bargain. Other tourists love to spend money on food and visit Michelin star restaurants and book special food related activities.
Free and cheap things to do
1. Stroll the grounds of the Imperial Palace for free
Follow the moats and paths surrounding Tokyo's central point, the Imperial Palace, for views of its famous bridges and remnants of the old medieval keep. In total, its 5km (3 miles) around the palace grounds- a popular local jogging course if you want to burn a few calories while taking in the scenery.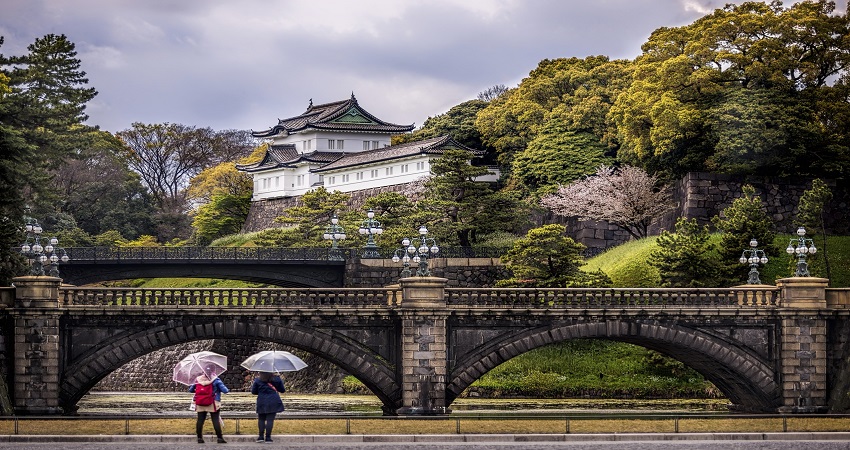 2. Go for the Suntory Musashino Brewery tour and drink free beer
The Suntory brewery is located in Fuchu, Tokyo, and you can take a free shuttle bus which runs every 30 mins from Bubaigawara Station. The 1-hour tour brings you around Suntory's factory, where you can learn about the brewing process and sample up to 3 free beers.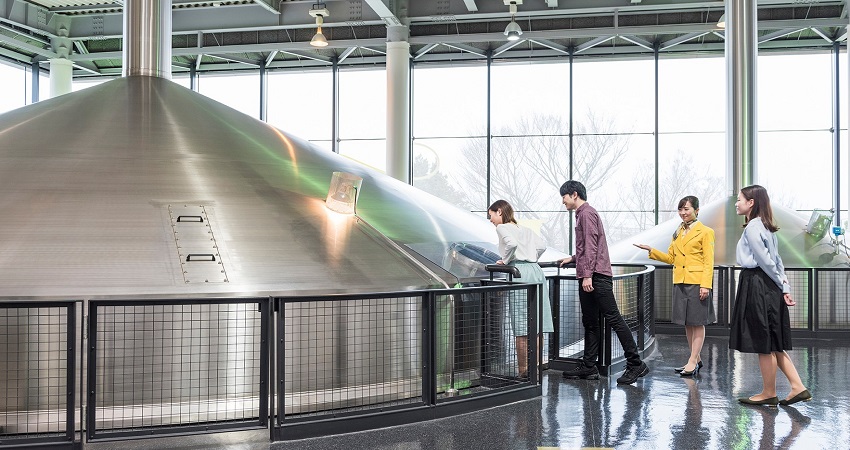 3. Visit Shitennoji Temple
When planning a trip to Japan, the image of standing in front of a beautiful temple beckons us and it can be easily sought at Shitennoji temple without ever having to take out your wallet.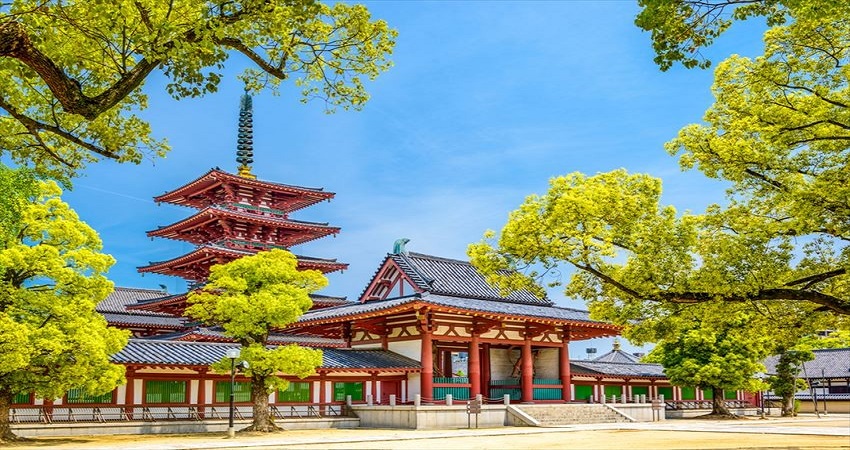 4. Visit the shrine of foxes at Fushimi Inari Taisha
Among the dieties of the complex Shinto pantheon, probably the most revered is Inari, the patron of rice, tea, and merchants. One in every three shrines throughout Japan is devoted to Inari, and many business owners – even heads of large corporations – visit these shrines for blessing and guidance. Fushimi-Inari Taisha, located in Kyoto, is Inari's principal shrine.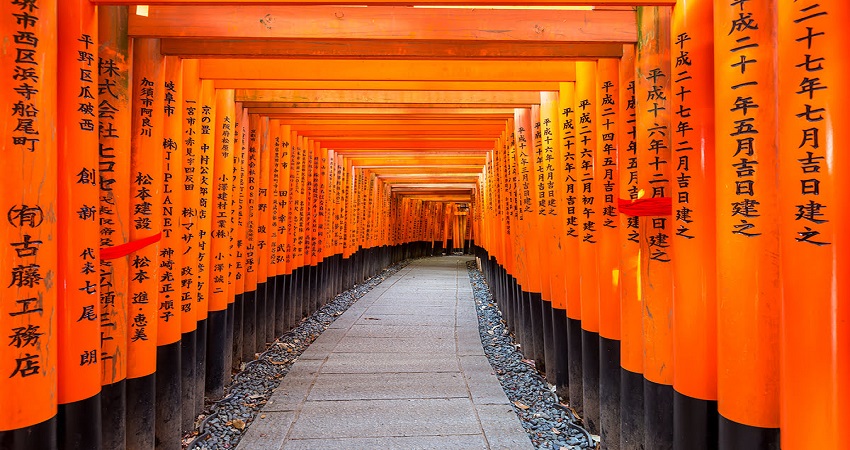 5. Go hiking at Minoo park
If you happen to be a fan of hiking, want some outside time or enjoy dazzling waterfalls, then Minoo has you covered. A particularly special place to visit during Autumn but still enjoyable all year round.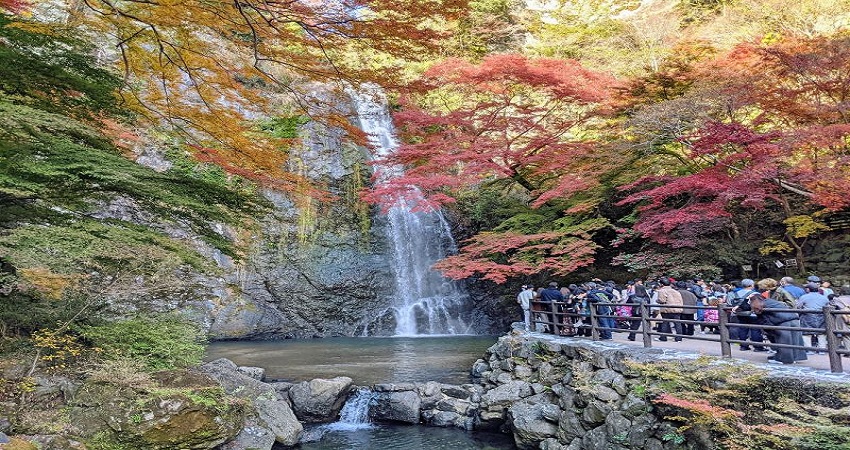 6. Enjoy a walk in Tokyo's Ueno Park
A perennial favorite for those looking for free things to do in Japan is to explore the country's parks. With its sense of size and history, Ueno Park in the heart of Tokyo is a perfect place to do just that. Originally tied to a temple that was later destroyed, this park was established way back in 1873. Today it's just a great place to walk around and soak up the local atmosphere between shopping expeditions.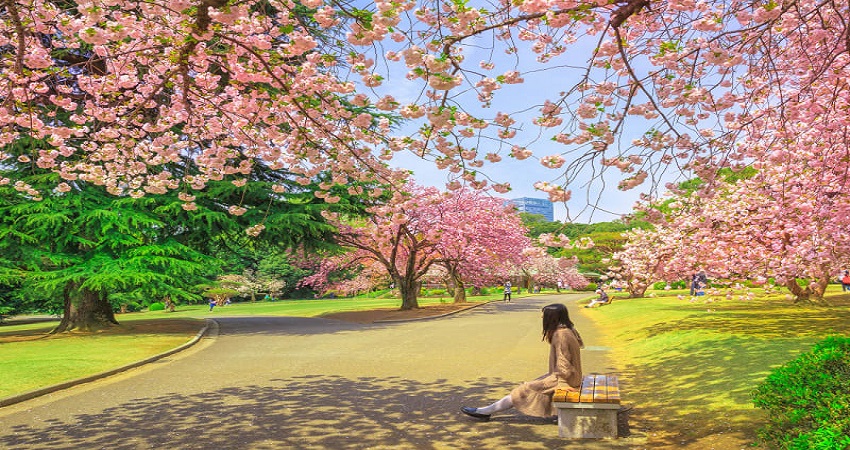 7. Museum and Galleries
Admire modern art, sculpture and installations at the Tokyo Metropolitan Teien Art Museum—housed within a rare pre-World War II art-deco mansion near Meguro. Admission is ¥300 for adults.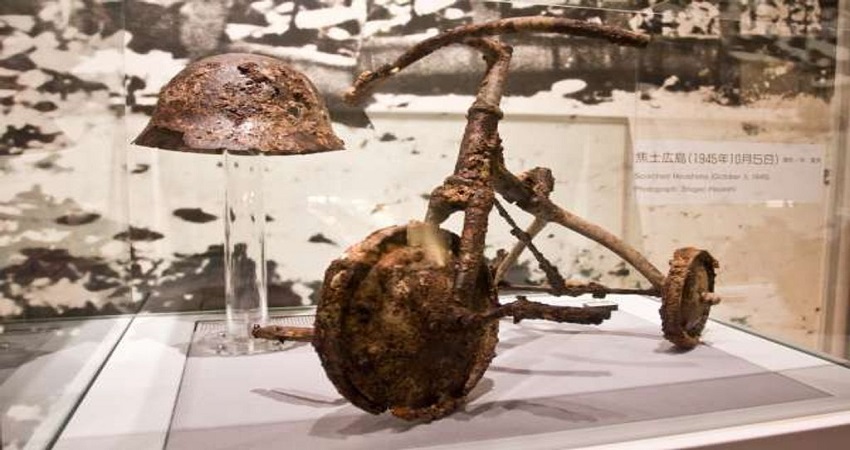 8. Carrot Tower
Experience one more way that carrots can help you see in the dark, while taking in a spectacular free view of Tokyo from above. Carrot Tower got its name from the building's orange façade, and is home to a free observation deck on the 26th floor, along with a restaurant and a more affordable café.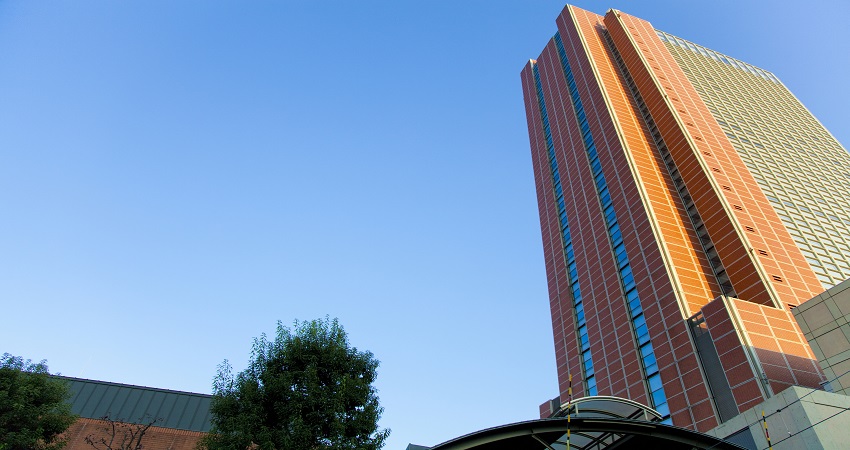 9. The Public Parks
There are plenty of parks in Tokyo to enjoy for free and unwind from the busy districts of Tokyo. Ueno Park, Yoyogi Park, and Inokashira park are great options in the city center.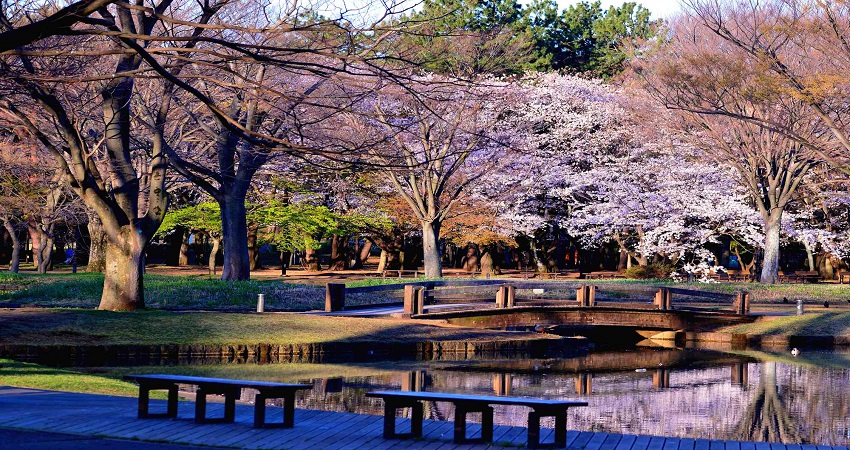 10. Free Tour at Hamarikyu Garden
Hamarikyu Garden is a beautiful Japanese garden located about a 12-minute walk from JR Shinbashi station. This lovely garden has a long history that dates back to the Edo period when it was originally built as a feudal lord's residence and duck hunting site.