No matter it is your first trip with your kids or fifth, traveling with children is never easy at all. Here are some tips that will save you from going insane.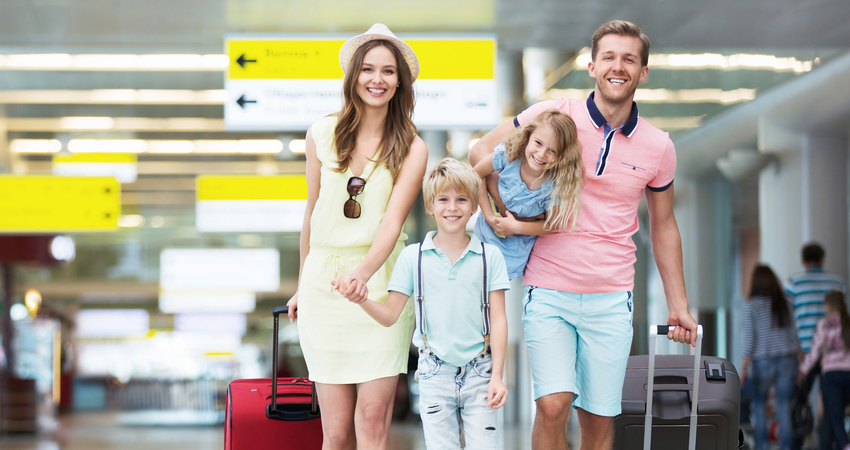 1 - Extra time
To travel with kids is not an easy task. Does not matter you prepared the plan or schedule. You have to give yourself extra time. Make sure, he/she should be comfortable in every situation.

2 - Let them play
Now a day, most of the Airports have a place for children's play. Because children's cannot stay a particular place for a long time, they require breaks from the stressful environment of the Airport. So check before to know that if the terminal or airport has these facilities.

3 - Check passports
Planning an international is always exciting but it requires more consideration. You have to check your & your little one's passport is up to date or valid and if it is valid then it should not expire during the trip & make sure that it also should be valid until you return. Check it carefully.

4 - Bring extra clothes and wet wipes in your carry-on
Does not matter how long & short is your journey when it comes to clothes, no one can make them dirty than your child. You have to prepare for everything & have to have an extra spare of clothes for your kid as well as for you also. Make sure as you reach you should be clean & fresh.

5 - Bring activities
While flying, your little one needs many ways to be entertained. Just carry his/her favorite toys (small ones), so they can have fun without disturbing you. You can download his/her favorite cartoon episode or movies on tablet or phone. Most of the time movies never seem to fail, if they are restless.
6 - Kid's food
Not carrying the kid's food can make you trouble and if he/she does not like the flight meal. So don't forget his favorite food. Now a day's many airports also allow baby milk or food. So just check before you leave.
7 - Travel journal
If your kids love any activities such as drawing or writing something whatever they see & hear. This will make them engrossed in every experience & will have an amazing impact on them.